If you ask someone or Google what to do in Budapest you will now probably get "Ruin ​​bars".
On our last summer holiday (2021) we finally ended up in Budapest and of course I googled for sights to see and must places to visit.
Ruin pubs were one of them, among river cruises, Bridges, Fisherman's Bastion, Buda Castle, other buildings like Parliament Building, Hero Square, Market Hall, Spa ..
I kinda wish I could turn back time a bit (10 – 20 yrs) because I bet these ruin bars were something cooler and cheaper back then, a real deal.
Now about 80% of visitors are tourists, im sure locals have their own "new" ruin pub somewhere else ..
We are not that into crowded tourist attractions, but having a drink in ruin pub felt like a must do in Budapest.
Budapest now famous ruin pub is Szimpla Kert 
Ruin pub means ruin pub in hungarian and there are bunch of ruin pub's in Budapest.
Simple Garden must be now famous and iconic ruin pub and the first ruin pub to open there.
Simple Garden means simple garden, but I have also heard open garden translation (hungarians help me!).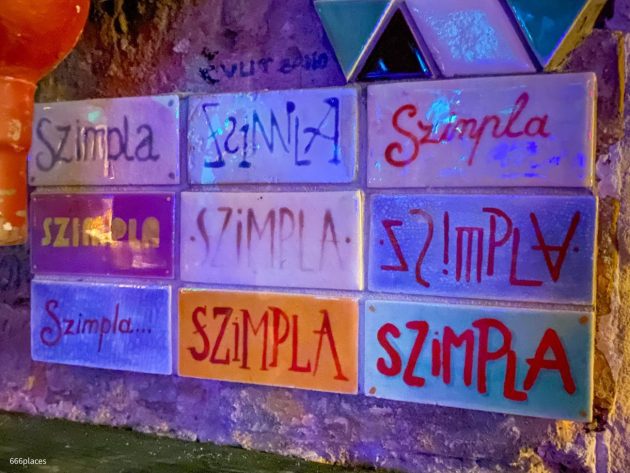 Ruin pub scene started around 2001 with a bunch of young men looking for cheap places to drink.
Szimpla Originally opened in 2002 in a different location, a few blocks away from its current location, still in the Budapest Jewish Quarter.
In 2004, a dilapidated area located at Kazinczy that used to be homes and a stove factory was set to be demolished.
Simple owners decided to save the area from demolition and move the pub there, to get more space and the environment they were looking for.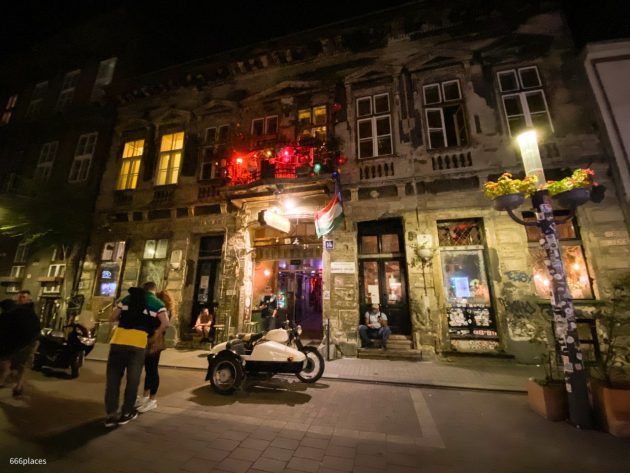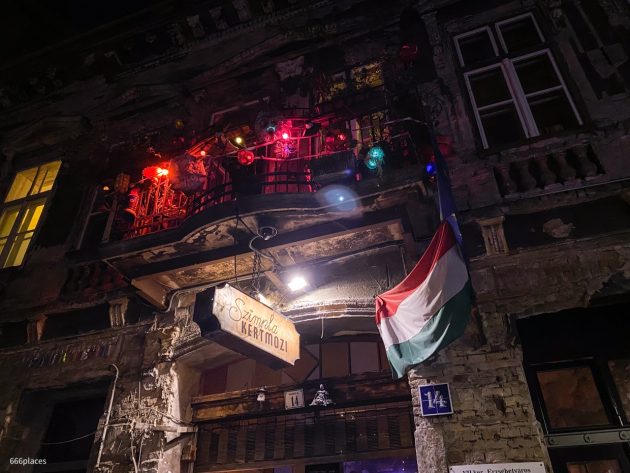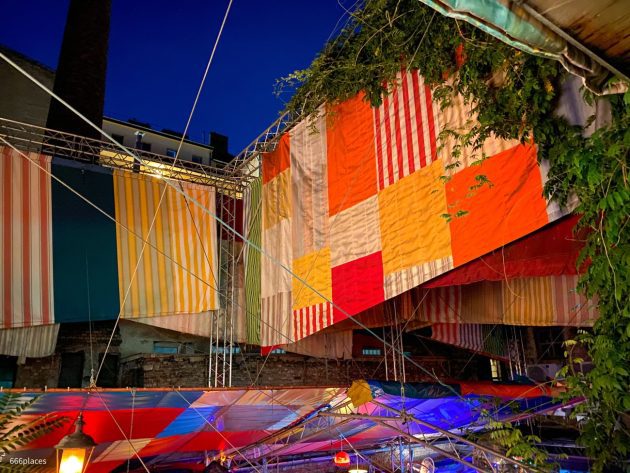 Simple nowdays is a huge complex with two floors and different "sections".
You can find there of course bars, but cute nooks, chairs and tables, even old Trabant car or a bathtube to sit on .. You heard me right!
There was a bathtube (no bubbles sorry) on the hallway where people were enjoying their drinks, having their furry friends with. I also found some kind of dinosaur standing on the door as a bouncer.
But that is what you are getting to see there, kooky stuff !!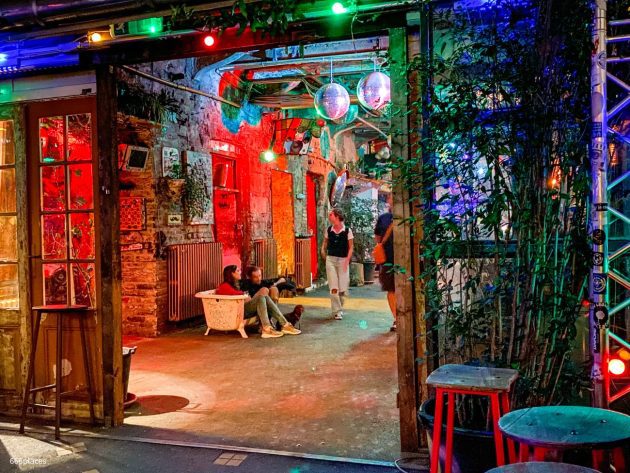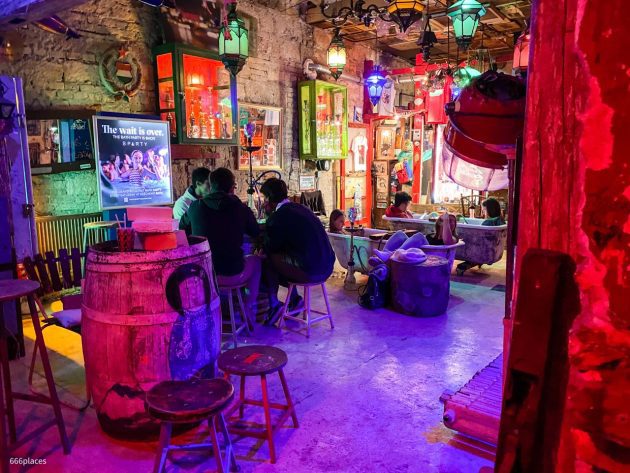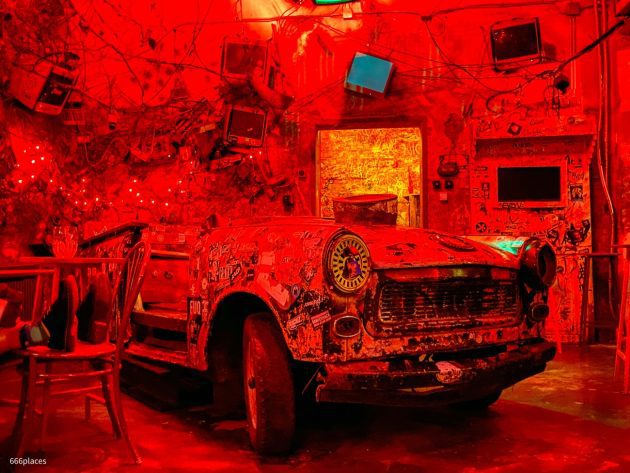 Everything feels possible there, it is like Imagination explosion- I dont know how else to describe it!
Place is crazy, but like Genius mess and it works!
It is nothing like the bars I have been to and I have been to quite many and "underground places" too.
Their "come as you are" philosophy seems to apply to both guests as well as the interior design.
There's stuff everywhere and I really mean everwyhere.
Place is huge, yeah it is run down, walls are crumbling in parts but dont let it bother you, it is still safe.
It has mismatched old furnitures & other random stuff, like that bathtube, bike, open-top car to sit and enjoy your drinks, paintings, posters, different tools, X-mas lights and wires hanging here and there ..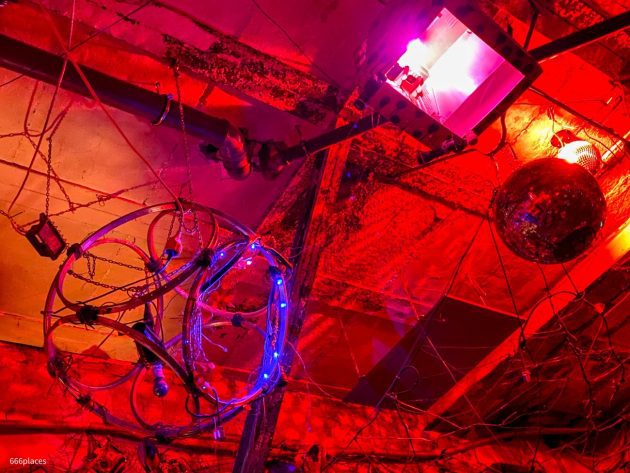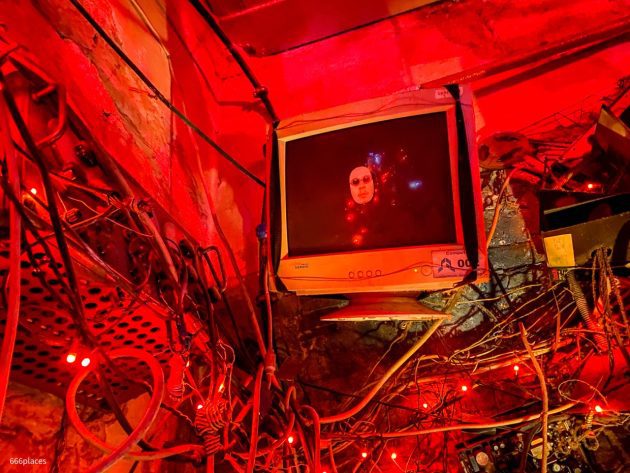 Even though the place was crowded and it didnt have the cheapest wine I really enjoyed my time there.
But I couldnt just sit down with my drink, I had to go walking around!
3rd best bar in the world
Simple has been voted 3rd best bar in the world and it is on the " 50 Bars to Blow Your Mind " list as well.
When talking about Simple it doesn't mean just one bar.
There are about eight different bars on the property.
On the ground level you'll find several bars scattered about, including a shisha bar, cocktail bar and wine bar. And upstairs more space, drinks too but it felt more "private" area than downstairs.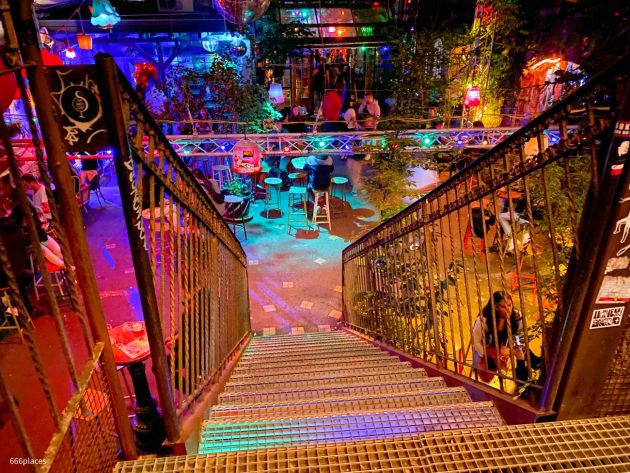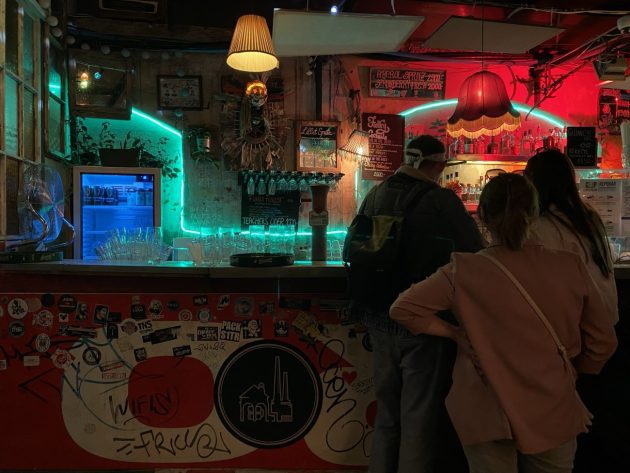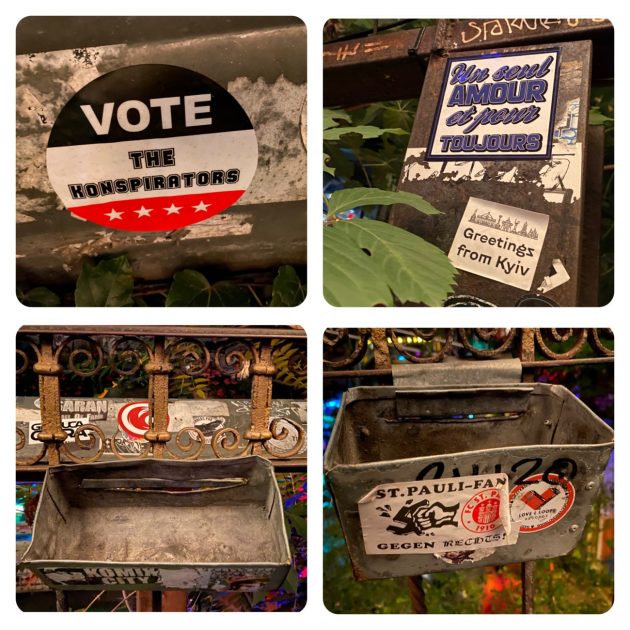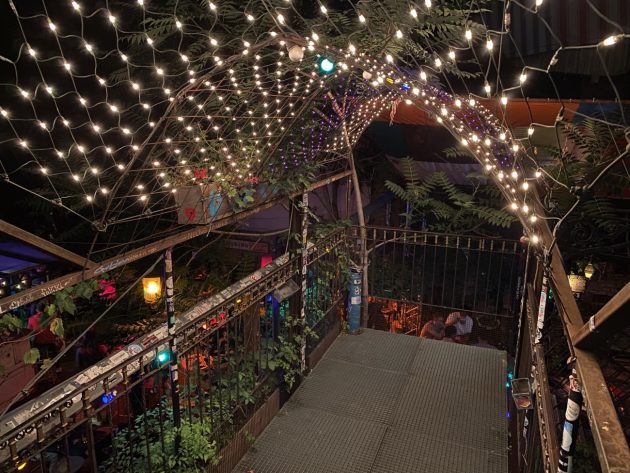 We had wine from the Wine Bar, they have a good list of local wines and tasted few red wines.
Wines werent the cheapest but they were excellent!
Also had some Jim Beam and beer. Soft drinks are cheaper but the line was quite a long.
Now that I have learned to drink wine traveling to these countries is much easier.
Cider has been hard to get and in Poland / Slovakia they have this awful beercider so getting to taste local wines now is super !! I highly recommend to taste hungarian wines !!
(If you look closely you can see a guy standing in our wineglass on the second pic below!)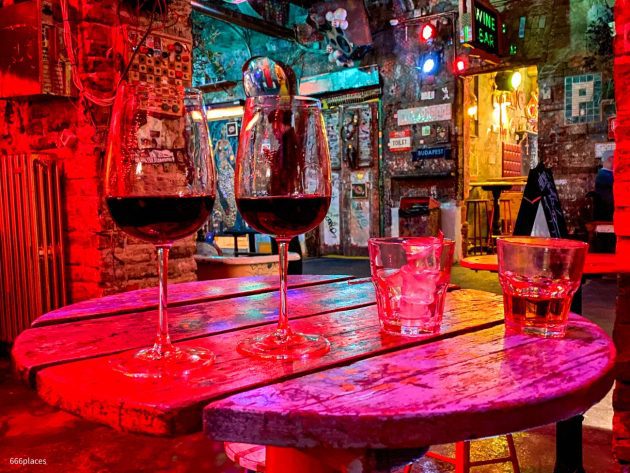 Although Simple has been listed as one of the top bars, the toilets were terrible: not flushing, no paper, pee all-over and smelling awful .. but I didnt find it too irritating, it actually felt ok because after all it is a ruin bar. It would ruin the idea if the toilets were fixed and super clean.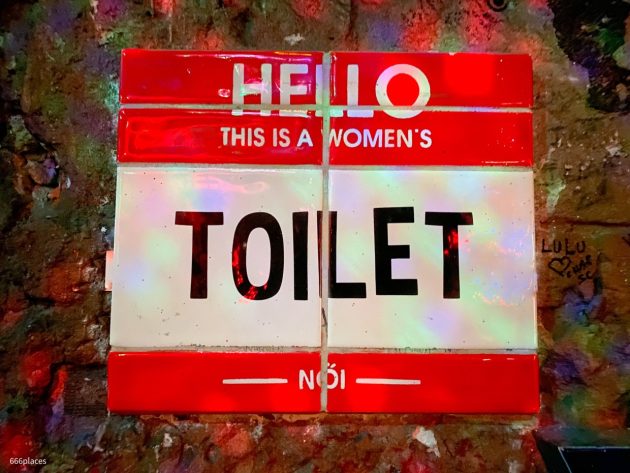 This is the place where with no repairs and no fine furnitures and it is still comfy!
(I was gonna say felt like home, but goosh what image would you have from my home then ??)
Well, the place was soon crowded and wine bar wine expensive (but so good), but like I said, there is still that something !
It was cool and interesting to visit and looking at my pics I hope to be there now too 😉
I know in Finland these kind of places would be "out of business" in no time cos our crazy strict rules…
It is not just a bar scene to go to, there are concerts, flea market and on Sundays farmers market where local producers sell cheese, honey, fruits etc.
Simple Garden was voted one of the coolest bars in the world, but it has downside, the area is very lively, bars open till 4am, so cant be too pleasant for locals ..
We didn't visit other places but spent a few hours at Simple and had late night food from the "next door".
We went there around 8pm and it was a perfect time, there weren't too many people and we got a nice, private table in the red room (although im not a fan of those deep red lights).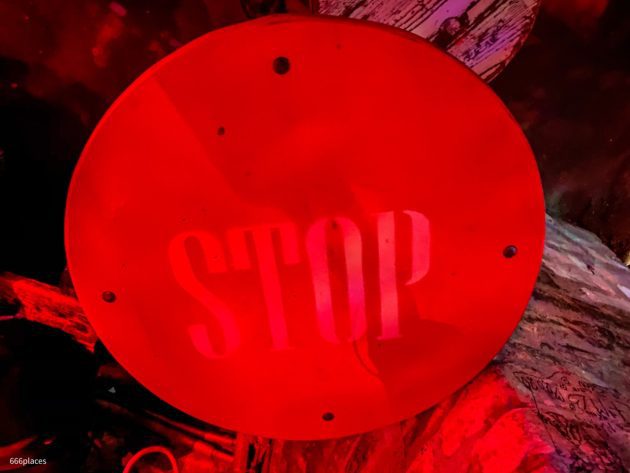 About an hour later the place was packed!
So if you want to have a seat and enjoy your drink, go early and bring some tissues too if you are a girl and need to pee.
I always have wet wipes and tissues with me, learn that after our first Baltic roadtrip 2011.
Simple opens at 12 so you have plenty of time on daytime to go there without much traffic.
Next time, if we´ll visit Budapest or Szimpla again, I wanna go there on daytime, just to take some more pictures.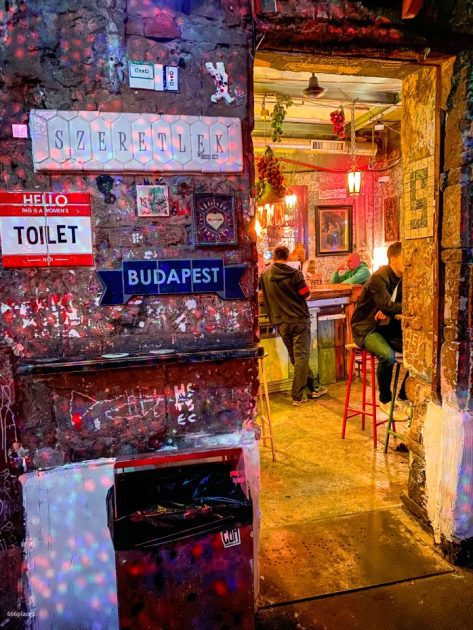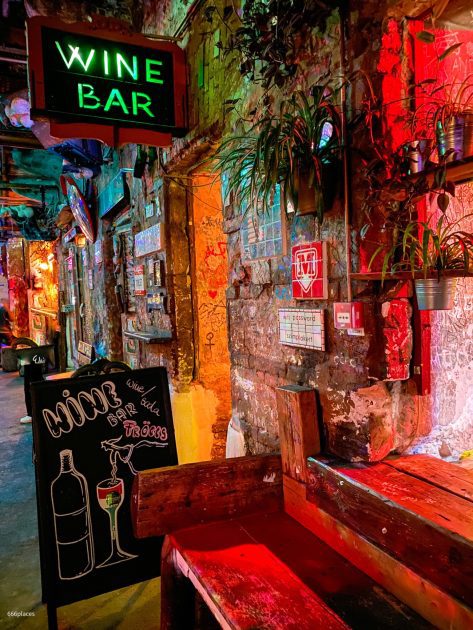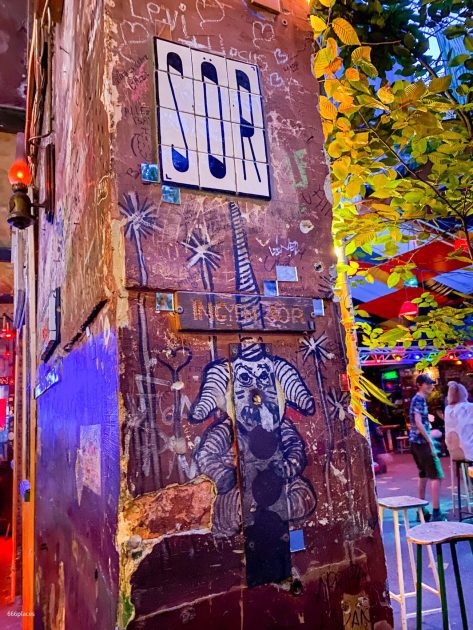 There are other ruin pubs to visit too with different scenes / vibes.
I want to visit these other ruin pubs too, drink some more good local wine but eat some traditional dishes too and of course trying new Flavors.
Here are a few places listed, you can find more from RuinbarsBudapest !
Szimpla Kert
Budapest´s first ruin bar
Address: Kazinczy u. 14
www.szimpla.eu
Supply Garden
Open air, Bohemian place with Mexican vibes, on the same street as Simple.
Address: Kazinczy Utca 48
(edit: permanently closed March 2022)
Mazel Tov
Friendly ambiance, Middle Eastern vibes, Israeli Fusion dishes, less than 600m away from Simple.
Address: Akacfa Utca 47
Quiet Letterem
800m away from Simple colorful, lively bar with soul, jazz, funk etc music.
Address: Ferenczy István u. 5