Comfortable and good quality accommodation at a reasonable price. Good location in terms of services, attractions and transport links. Decent breakfast and preferably by the pool. With these criteria, I set off looking for accommodation in Barcelona, ​​from where we would continue on a Mediterranean cruise after a couple of days of city break.
These criteria were therefore not an impossible-sounding equation at all, especially in Barcelona, ​​where there is a sufficient supply of accommodation. And it wasn't really that mission impossible , other than for the price, because with these criteria, the prices of family rooms could easily bounce to several hundred euros a day. Paying such a price now seemed quite endless.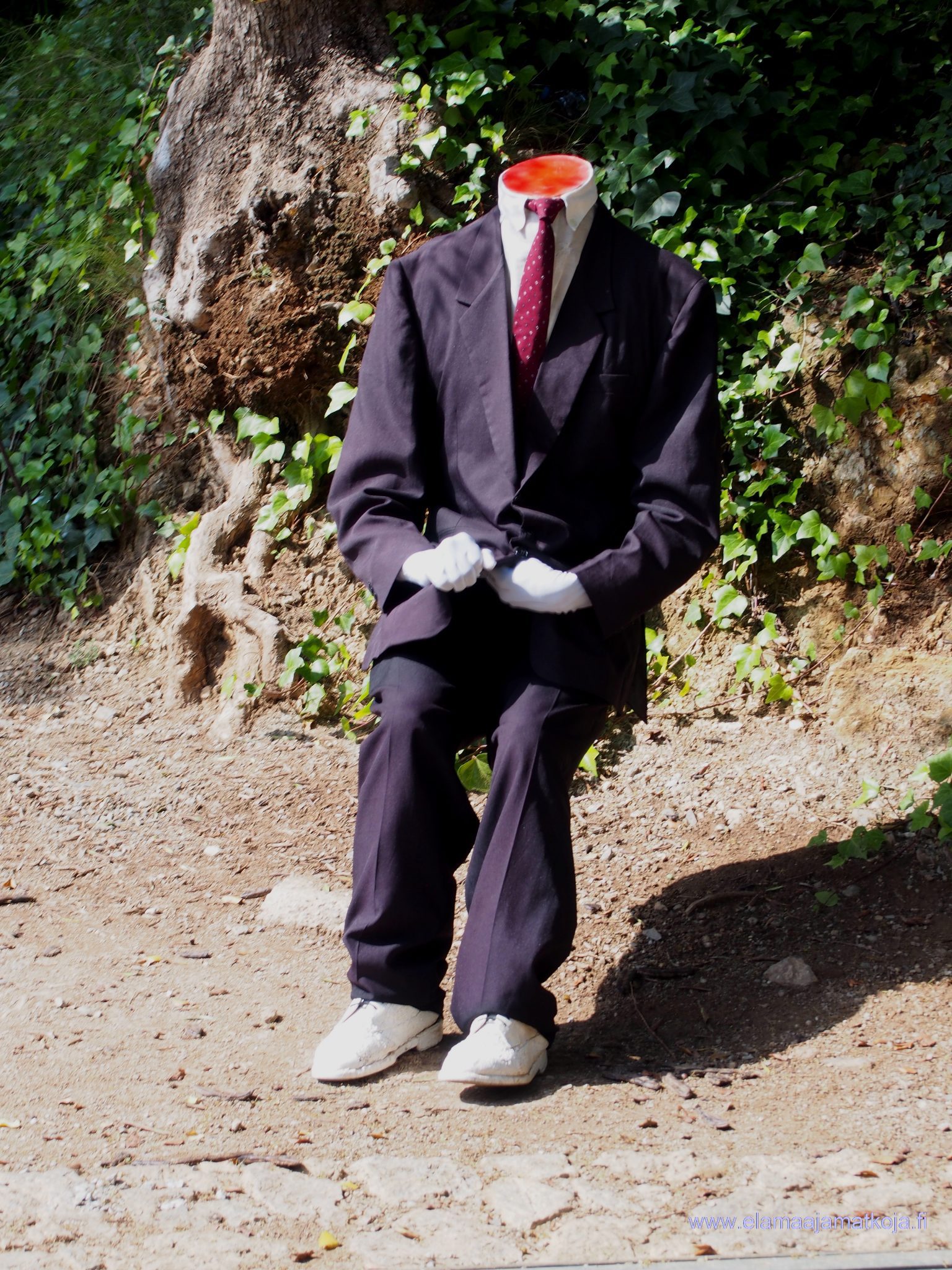 Price
After circling the hotel options of my time (and sometimes forgetting about it ), I found a good deal on the Amoma page for Novotel Barcelona City that I had already looked at with 'that eye'. Amoma's offer now detached the family room at a price of EUR 150 per day with breakfast and payment only at the hotel.
In addition to the room rate, the hotel charges a tourist tax of € 1.21 / day / adult in the city of Barcelona and a deposit of EUR 50 (cash or credit card booking) is required upon check-in.
As I wrote this, I looked at the price level again and now in the winter season the breakfast in the same room seems to get about the same price and at the same time as our trip in October 2019, the family room with breakfast currently costs just over € 200 a day. You should join Accor Hotels' free loyalty program to earn points for overnight stays at all Accor hotels (including Fairmont, Raffels, Sofitel, Novotel, Mecure, Pullman, Ibis, etc.) and receive special offers on accommodations.
Location
The Novotel Barcelona City's location in  Sant Martí 's  Avenida Diagonal is central and well connected. By taxi, the journey from the airport to the hotel takes about 20-30 minutes and the journey to the cruise port took about the same amount of half-day during peak hours. Taxis are available in front of Novotel Barcelona City (opposite the main door) and there are bus and tram stops next to the hotel. Glòries Metro Station is 300 meters away.
From Novotel Barcelona City you can walk to  the Sagrada Familia in about 20-25 minutes (approx. 1.6 km), by taxi the same distance can be reached in about 5-10 minutes depending on traffic, a taxi ride costs 6-8 euros for four people. The Glòries Shopping Center is a few minutes 'walk away and offers a variety of restaurants, fast food outlets and cafés.
The Novotel Barcelona City's location is therefore good in all respects, and the adjoining Torre Agbar is a good landmark, illuminated in the evenings.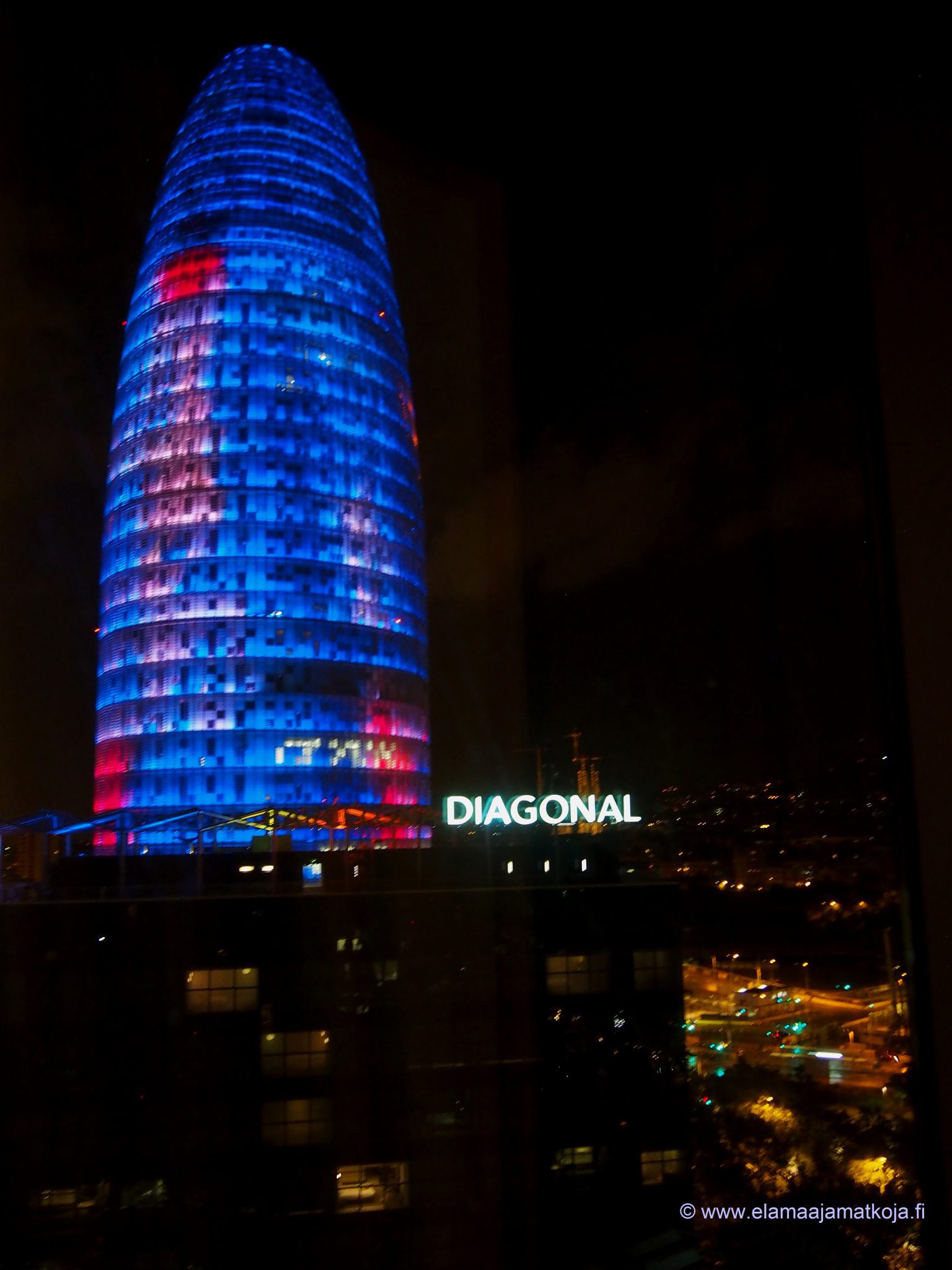 Family room with city view
Our 24 square meter family room was located on the 12th floor of the hotel. The room's full-height floor-to-ceiling window offers great views of the adjacent Torre Agba and the Sagrada Familia in the background , pictured above from our window.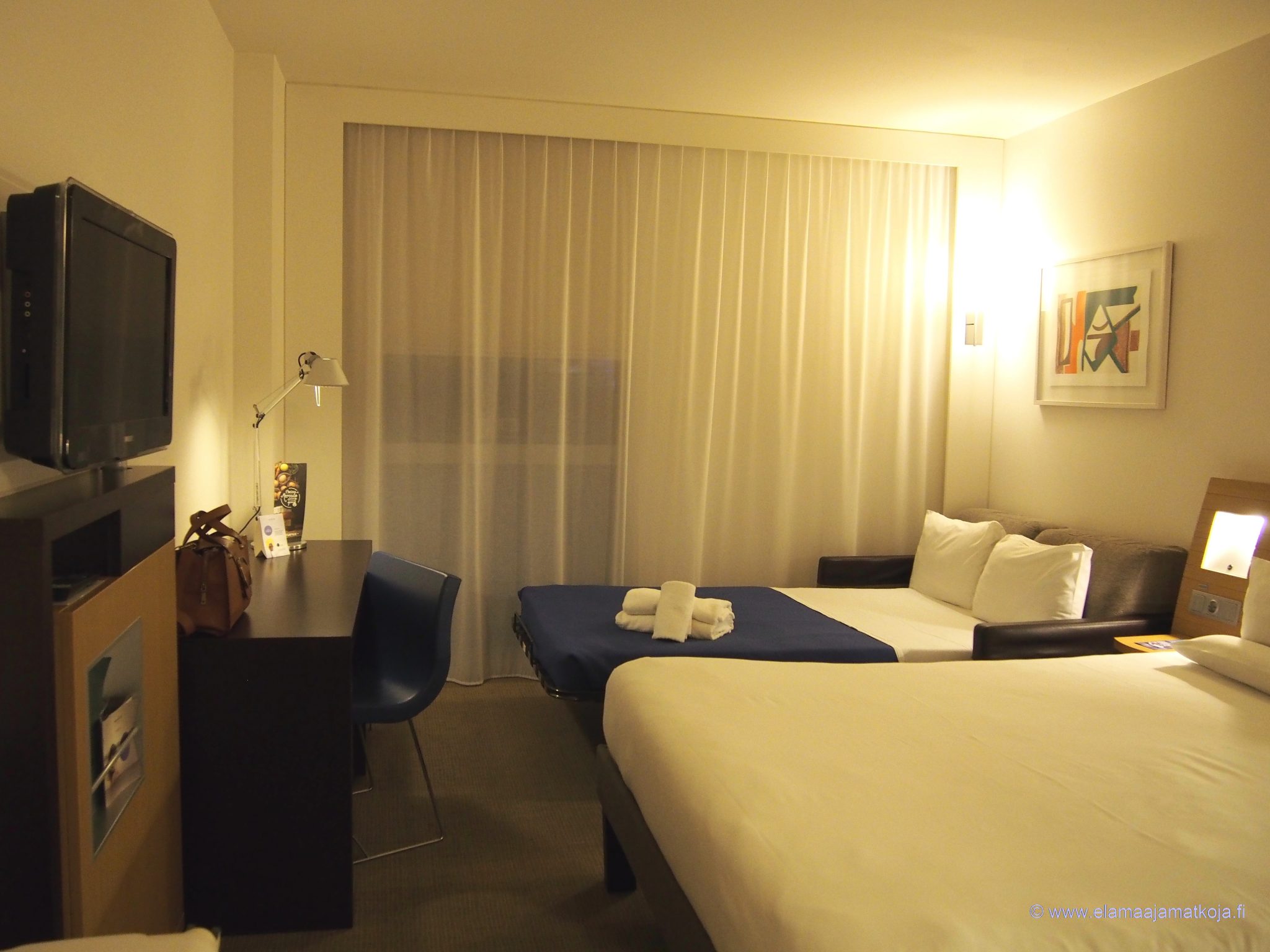 Our family room was clean in every way, including the carpet. The room was also really quiet and I was really surprised that the traffic noises were heard even though there were plenty of cars rolling down the street. The sounds of other rooms or those walking in the hallway were not disturbed either. So thumb up for soundproofing!
Also a plus for a year of a quality mattress that brought good sleep even to a backbone like this. The sofa bed, which serves as an extra bed, was good enough for two primary school children, but it was not particularly comfortable. The room had enough space for a family for a short stay, with the sofa bed attached this would already be quite comfortable for two people.
The family room is equipped with free Wi-Fi, a flat-screen TV, an electric kettle (we had a brand new one), a coffee / tea selection and a minibar at an additional cost.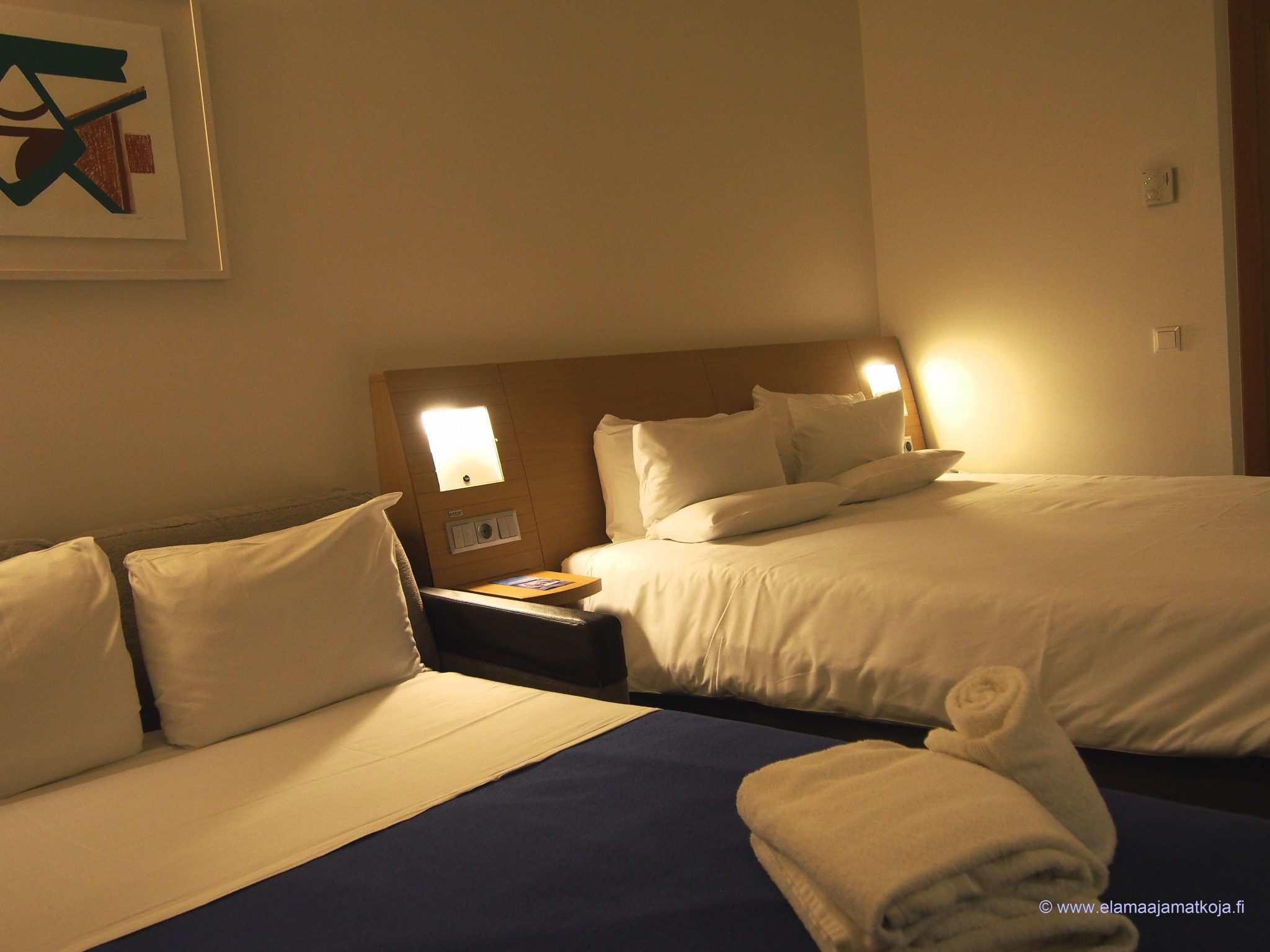 The bathroom was comfortably spacious and clean. Our acrylic, on the other hand, didn't show off in size and quality, but that drives its cause. Plus for the fair trade bath products used by Novotel and the sustainable development program, which aims to e.g. minimize water and energy consumption and ensure proper waste sorting.
THE PLANET 21 PROGRAMS

We have 3700 hotels around the world because we love Planet Earth. To use its resources without jeopardizing it's future, we have joined the PLANET 21 program. These 21 concrete and quantitative objectives relate to local sourcing, diversity and water, energy and waste management. " You can read more about the contents of the program on the Novotel website here .
However, plastic disposable cups in the bathroom should still be replaced with ceramic or glass dishwasher-safe cups. Shower soap and shampoo could also be in wall-mounted pump bottles to reduce plastic waste.


Breakfast
We had booked a room with breakfast, but it is also possible to make a reservation without breakfast and buy it directly from the hotel if you wish. In that case, however, you can prepare for queuing for a seat, as breakfast will be directed to the tables as seats become available. However, when booked in advance, we got in directly both mornings despite the rush hour.
The breakfast at the Novotel Barcelona City can be warmly recommended, as it is really rich and high quality, the offerings are fresh and tasty. The choice for breakfast is really good and the local delicacies take your tongue away. Special thanks to fresh tasty bread, freshly baked tomatoes and mashed potatoes,  tortilla, and heavenly cakes and delicious fruit. There is no reason for this hotel to look for breakfast in a nearby cupola.
The hotel's restaurant also serves lunch from 13:00 until 16:00 and dinner from 19:30 until 23:00. Unfortunately, we didn't have time to test these this time around, but other customers have praised the restaurant's Mediterranean flavors.


Photo: Novotel Barcelona City / Accor Hotels
Services of Novotel Barcelona City
The hotel's reception staff are professional and friendly, and are happy to provide tips on the city and help with tour arrangements if needed. Like the Novotels, the children were warmly welcomed and cared for in person with a small welcome gift. Pets are also welcome at the Novotel Barcelona City for an extra charge of € 20.
In addition to a breakfast / lunch / dinner restaurant, Novotel Barcelona City has a lobby bar and a real gem on the 19th floor, with great views of the Zity Bar with its  comfortable seating areas.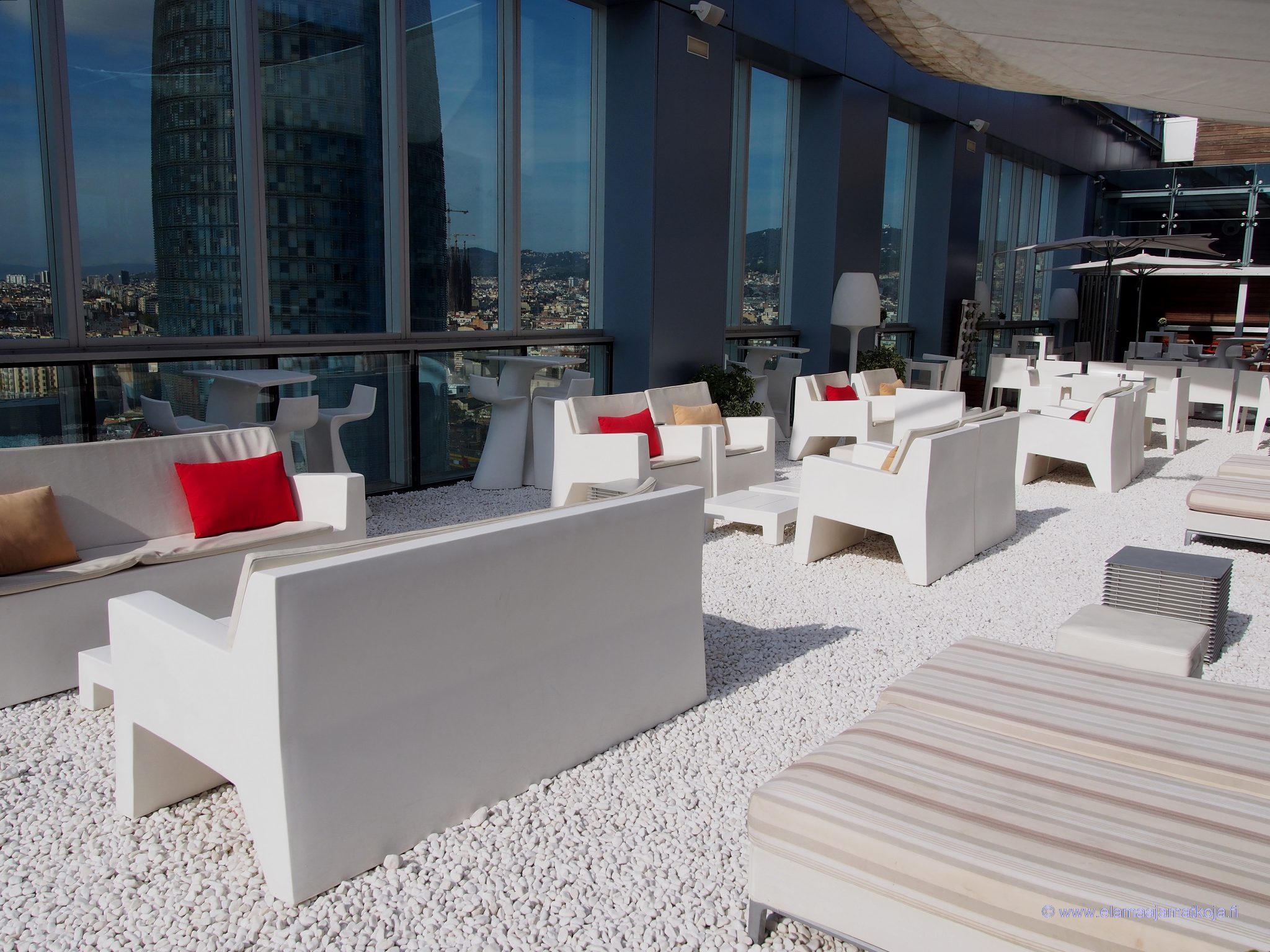 The rooftop deck also has sun loungers, a small swimming pool (max. Depth 140 cm) and a separate small children's pool, which also offer stunning panoramic city views. There is also a gym on the 19th floor. a pair of treadmills, a crosstrainer as well as dumbbells, yoga mats and exercise balls.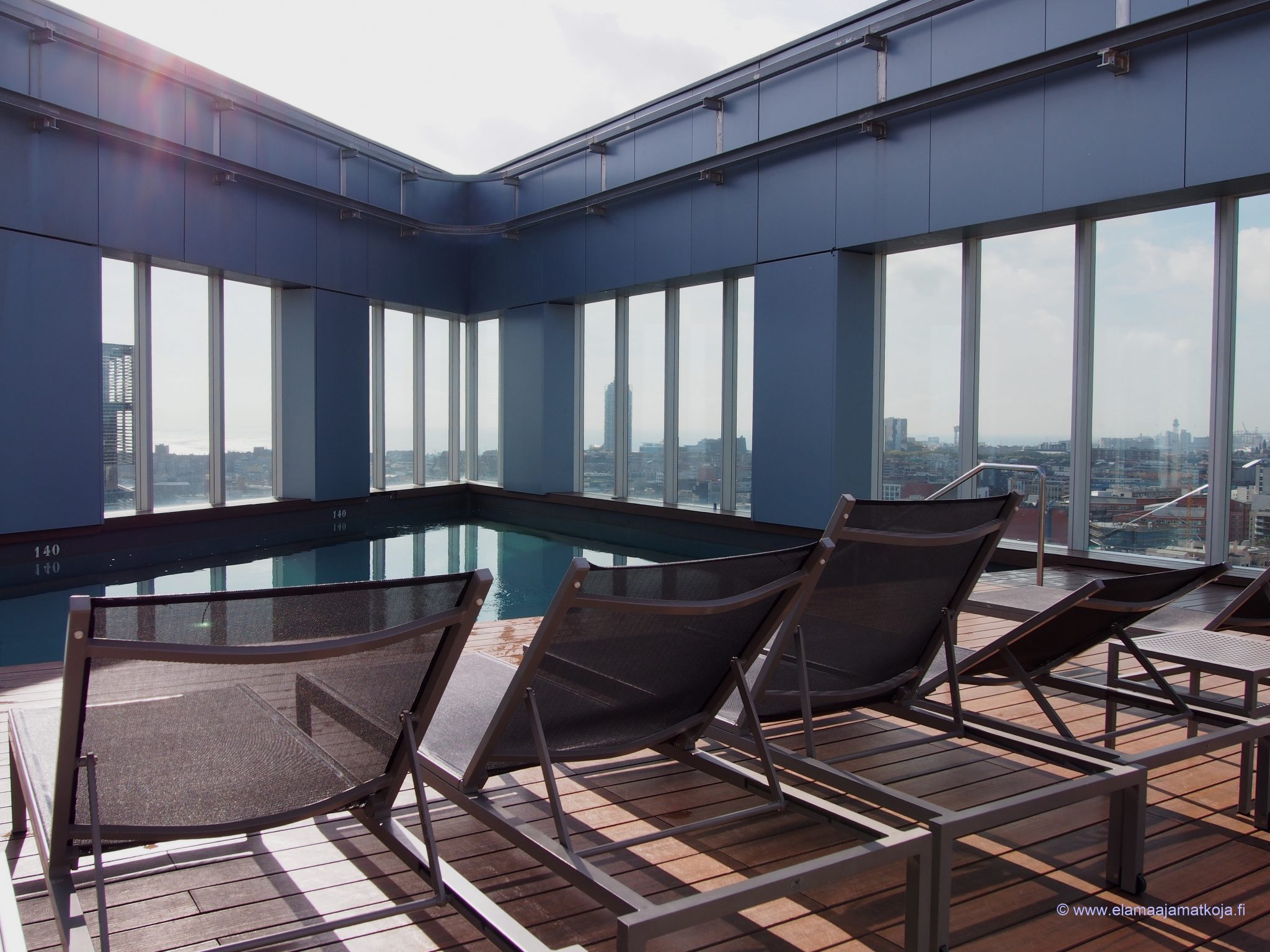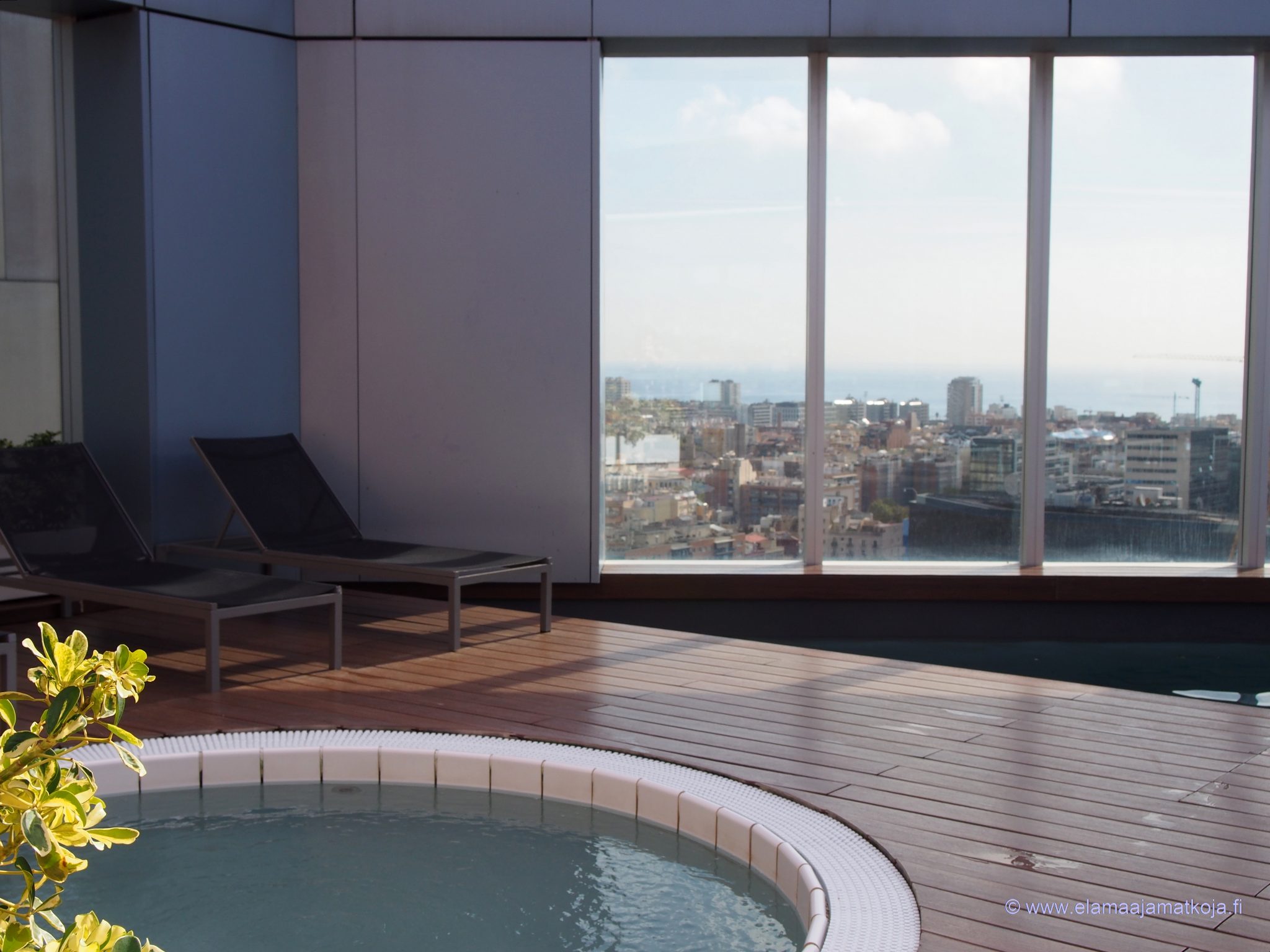 We were very pleased with our two-day visit to Novotel Barcelona City and I think this hotel is value for money. The location is good, a decent mattress and a quiet room guarantee sweet dreams, the hotel is clean, the staff knowledgeable and friendly, the breakfast really good.
In the cherry cake still these views from the room and the roof deck…. no whimsy or what?