Is it a color? A lack of color? Basically, for us, it doesn't matter: white is your ally when you know how to handle it.
It's a basic for an elegant style, it can sublimate your skin tone and brighten the colors you wear. The risk, however, is to fall into simplicity, the basic look that takes no risk.
With the beautiful season, you can't do without it. That's why we offer you this guide to distinguish the shades of white, learn how to combine and match them to get the best out of your style.
What are the shades of white and how to recognize them
Color or not, white is the international mark of purity. The symbol of the blank page, of new beginnings… And since it's spring, what season lends itself better than spring to the start of a whole new chapter in your life?
Especially since white takes on a whole host of other symbols. Like that of revolution, change, the first feminist movements and defenders of human rights. What was Kamala Harris wearing the day she officially agreed to become Joe Biden's vice-president if he were elected? Obviously, a crisp white suit to signify the novelty of a woman being appointed to this position for the first time in US history.
Beyond this immaculate white or alabaster, you also have the choice of variations that will say something else about you. Off-white, milk white, linen white, ivory, ecru, light beige … So many shades that adapt to your skin tone, the look you want to achieve, the time of day and the year. In short, there is a blank for everything.
With what colors to associate white to achieve your look
From the purest white to cream beige, you can have fun juggling the following looks depending on which tone you like the most (or have on hand).
The contrasting look, white and chocolate
Yes, white goes with everything – or almost. But this is not an absolute guarantee of success for your look. To reveal a color well, you have to know how to find the right combination and accessorize.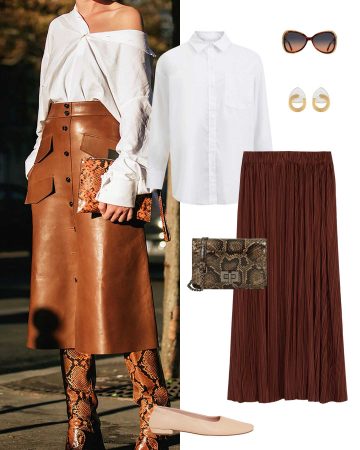 For example, for a spring (and summer) look, choose a cream or ecru white base, which you will associate with a whole range of earth tones. Take an oversized shirt, pair it with a chocolate skirt and accessorize with similar tones, from coffee to gold. You can also provide a reminder of ecru with ballet flats in this tone.
The great classic, in blue and white
Obvious, easy to create, it's the most common duo – but not the most basic. A white top over light jeans always works great and dresses you up just as well for a date in the city as a drink by the sea. Swap the t-shirt for the shirt version if you want to up the ante with a twist. of formalism.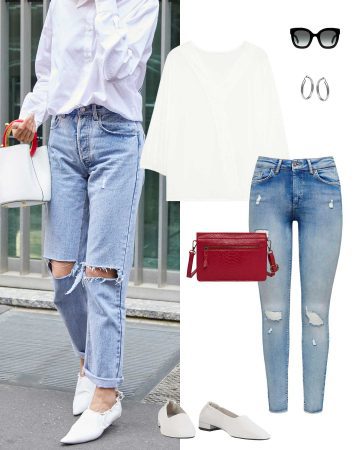 Sneakers or moccasins on the feet, also in white, of course. Finally, to spice up this look, add a small bag of color, to match with a headband, nail polish or lipstick if you wear it.
Natural lightness in green and white
One of the undeniable advantages of white is that it goes just as well with warm colors as with cold, flashy or pale colours. For an outfit in keeping with spring, bet on an alliance with a soft green. A green patterned blouse, for example, with white jeans that will give you a casual look.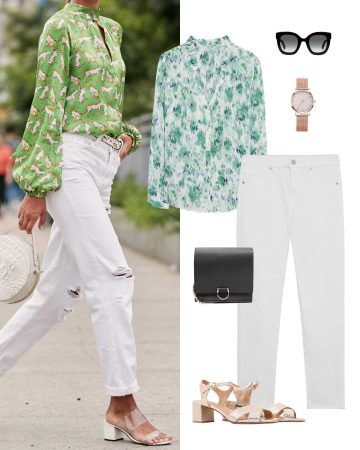 As for accessories, stay in a white range or close to it. Mini handbag, light sandals, delicate and golden jewelry, that's all you need to pull off this look!
A gourmet look based on orange and white
The beautiful season is always accompanied by fruity colors. From vitaminized tones to the sweetness of a peachy pinkish orange, you can indulge in these sweet ranges.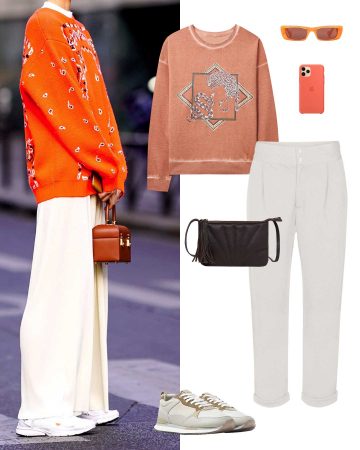 We bring out the famous white jeans, the essential base of the moment, and we match it with an orange sweater to attenuate the strength of its color. For the sporty touch , a pair of white sneakers at the bottom and glasses matching your top on your head.
The elegant look: how to achieve a total white look
Another must-have for summer, the all-white look automatically calls for the mildness of beautiful evenings, even the seaside. But you still have to manage to create the right look because it can easily fall off…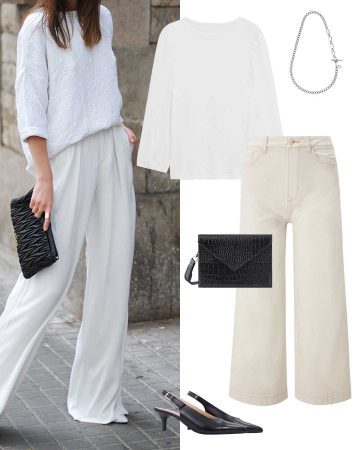 The key is to accessorize with one color for contrast (black shoes and bag, for example, silver or gold jewelry depending on your skin tone, but no more). The perfect duo for this look: the trendy wide leg pants and the three-quarter sleeve shirt that covers you in case of a light breeze.
Which white to choose according to your colorimetry ?
Everyone needs their own shade of white. Choosing the tone is the best way to bring out your skin tone…or turn it off if it's not the one that suits you. Our Personal Shoppers guide you.
shop trendy clothes at Charles&Keith and get huge discounts while shopping.
Your ideal white if you are a summer type woman
Summer woman, cold and soft white suits you very well. Ecru, lightly powdered white too, which will easily combine with pale or pastel make-up and silver jewellery.