Round women (buttocks, wide hips, strong thighs and large sizes), here is our Personal Shoppers' guide to choosing the perfect jeans.
What are the perfect jeans? The pants in which you are comfortable, but not only. These are the jeans that meet your current expectations. Do you have wide hips and would you like your legs to be seen more? Do you like to show off your shapes and bring out the curve of your buttocks or your thighs? Do you like high waists but have trouble finding pants that don't hug your stomach too much? To each his problems, and to each problem his ideal jeans.
Our Personal Shoppers have put together this guide to help you find the right jeans for a curvy woman, whatever your curves. You will be able to make the most of your morphology.
In general, which cut of jeans to choose for a curvy woman
With a round or oval morphology , certain trouser cuts are easier to wear. The shape, length, size, all these criteria are important when choosing your jeans.
How to Wear Curvy Bootcut Jeans
The bootcut jeans are slightly flared at the ankle, and it stops just above the foot. Hence its name, "boot cut" which shows your boots.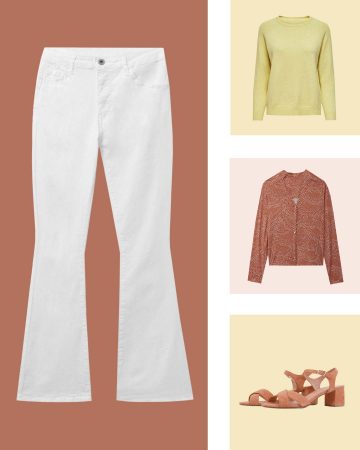 The advantage of this volume at the bottom of the legs: it brings a visual balance with the roundness of your hips.
The bootcut cut is also ideal for slimming the calf.
To choose preferably in high waist, to lengthen the legs even more. This spring, try white bootcut jeans, combined with a miniprint blouse and a pair of heeled sandals. Add a splash of color to finish with a lemon sweater that creates a soft contrast to your jeans.
Flared jeans for curvy women: the right choice
The cut of the flare jeans is even more flared than that of the bootcut. It takes volume above the ankle and goes down as low as the foot to cover the shoe and elongate your silhouette by a few centimeters.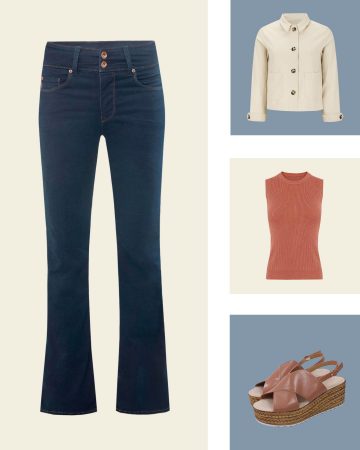 The advantage of these very seventies pants: they refine the hips and balance your morphology while stretching your legs.
How to wear flare jeans this season, if you have a round morphology? Test a casual chic look from flared jeans (the longer you choose a cut, the more you lengthen your legs and your silhouette). A little sleeveless top with a ribbed effect, a denim jacket cut below the hips and espadrilles or sandals with heels: you're right on trend.
High-waisted jeans, your best ally
For a curvy woman, high-waisted jeans are an essential asset. It gently draws and sculpts your shapes, creating a harmonious unity that stretches your silhouette.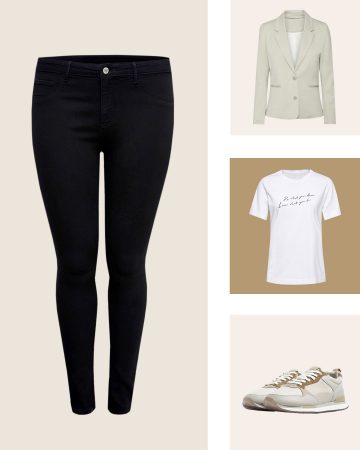 You can structure your look a little more to enhance your morphology by choosing fitted pieces for the top.
Our look suggestion this month: high-waisted skinny jeans, a thin t-shirt and a fitted blazer to bring height to your outfit. Sneakers on the feet for a casual side or kitten heels to elevate the look to a more chic style.
Which pants are ideal for a round and petite woman?
Because it's not just jeans in life, here are some ideas for pants that will fit you perfectly if you are round and petite (also see our guide for a petite body type ).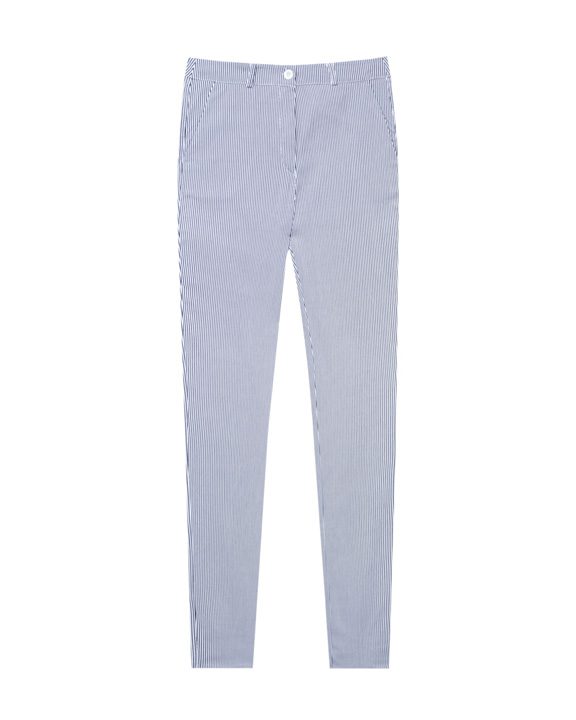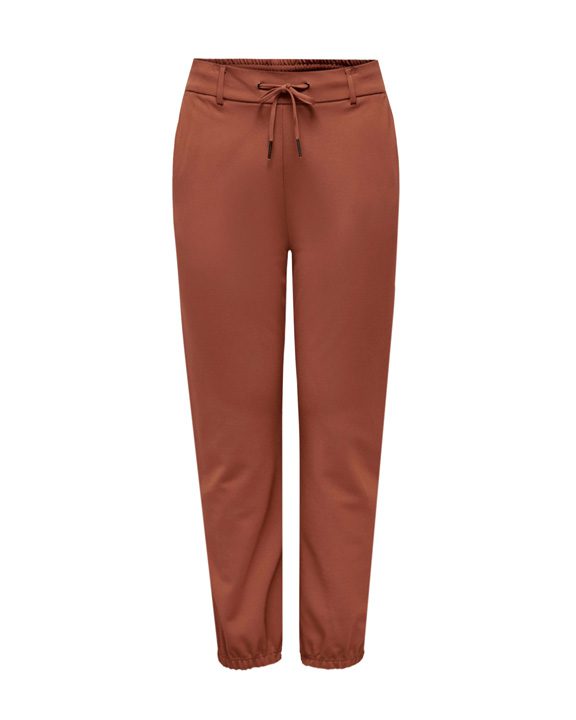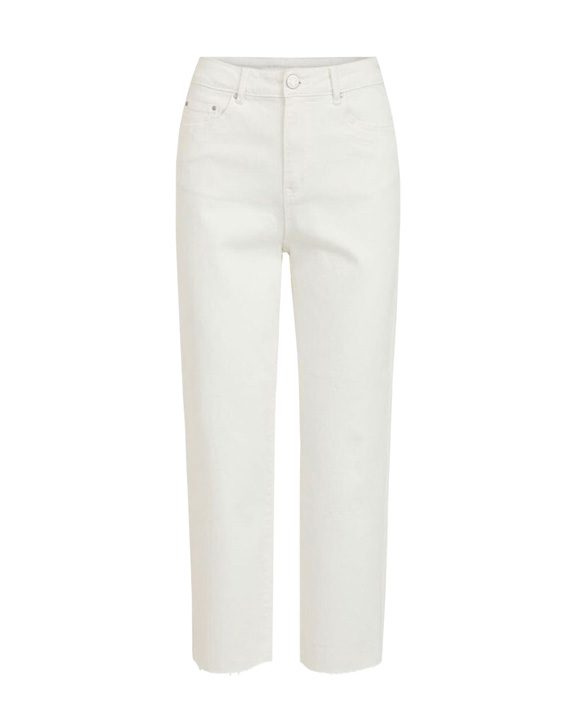 The ideal joggers: say yes to comfy joggers, the star of our post-lockdown locker rooms and constantly reinvented. A dark color (gray, black or dark burgundy, for example) combined with a small, light, fitted top will give you a lovely contrast.

Striped pants, more than ever! Vertical stripes are always welcome when it comes to creating movement and drawing our silhouette. They accentuate the verticality of your natural lines and – good news! – they are very trendy this year. Try the striped chinos with a pair of espadrilles for a great season on top.

The must-have culottes: if there's one perfect piece in your wardrobe, this is it. The so-called "panty skirt", high waist, wide legs and cut well above the ankle. It gives you a natural and slender movement, it makes you long legs and is still one of the most comfortable to wear. With a pair of thin square toe ankle boots, you will love your look.
Best pants for a tall, curvy woman
And for a round and tall woman (above 1.75m)? Here are your best pants options. 3 suggestions from our Personal Shoppers to adapt to your style and tastes.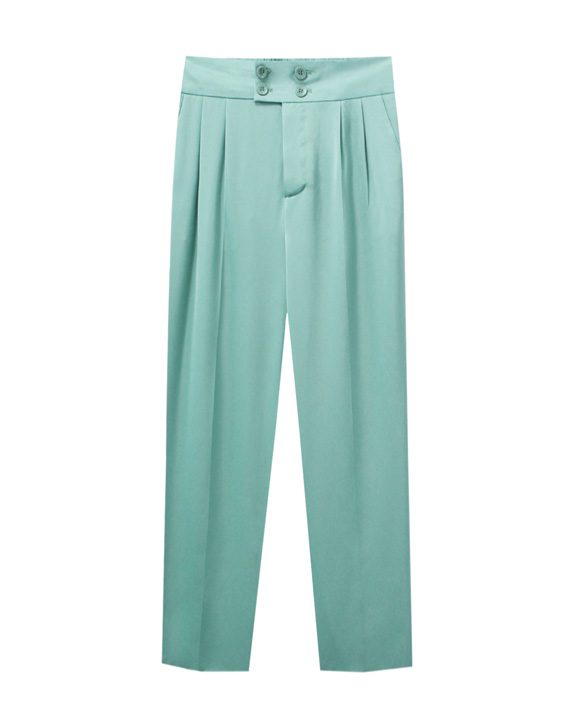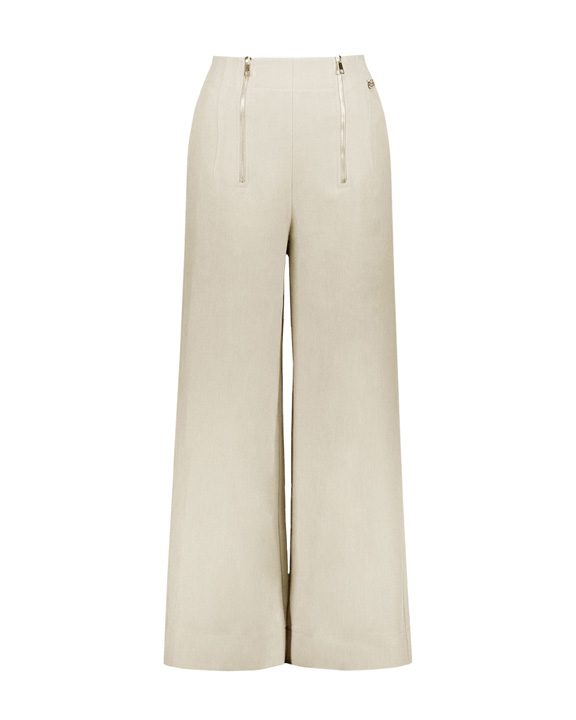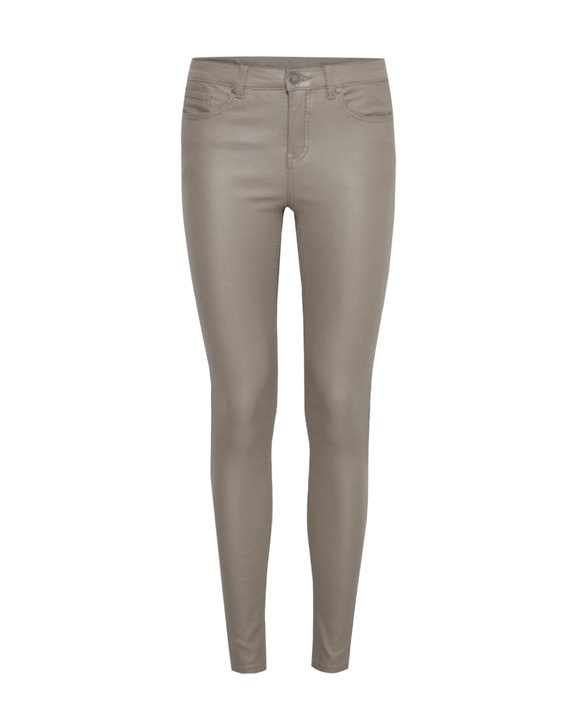 Fluid trousers: fluidity is an excellent ally. A floating material gives you movement and lightness: you only see your legs! Choose a solid color and no prints if you are looking for a slimming effect.

XXL legs: the taller you are, the more you can afford to stretch your trouser legs. High waist, long legs and palazzo type cut particularly favor you. For an easy casual look, just add a biker jacket and a pair of trainers.

Yes to skinny jeans: and no, you don't have to wear loose clothes to enhance your figure. Skinny, high-waisted jeans in a semi-dark tone are a great option too. Conversely, choose a straight top or a little loose for contrast and you have your look!